Water & Ice Dispenser
The water and ice dispenser provides continuous filtered water and crushed or cubed ice at the touch of a button, and has now been made even taller to accommodate taller glasses or pitchers. The healthy water filter system ensures that water and ice from the refrigerator will always be clean and fresh, making the fridge more space efficient as storing bottled water becomes a thing of the past.
FreshSafe Vegetable Drawers
Two large drawers provide the optimal humidity level to preserve vitamins and nutrients in fruits and vegetables.
Multiflow Cooling
Cooling air flows out through multiple outlets at every shelf level. This provides even cooling throughout the refrigerator, and quickly restores the proper temperature after the door has been opened.
Bright LED Lighting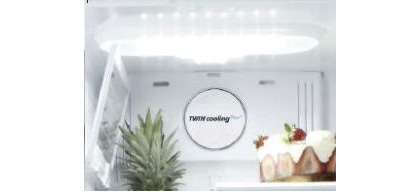 The space-saving, energyefficient light makes every corner brighter than ever.
Twin Cooling System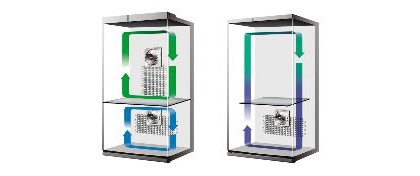 The refrigerator and the freezer compartments are controlled separately. No air moves from one to the other – so the fridge maintains the right humidity to keep vegetables fresh, while the freezer is kept dry and odour-free.
EZ-Open Handle
Opening the freezer door is a breeze without any extra force thanks to Samsung's unique technology. Simply lift up the handle slightly and pull the freezer easily.
Auto Pull-Out Drawer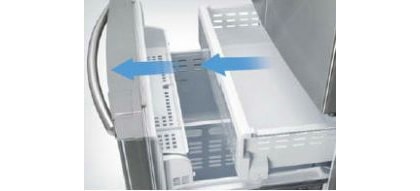 The large slide-out drawer features a movable divider that separates various types of food for easy organisation.
CoolSafe Lock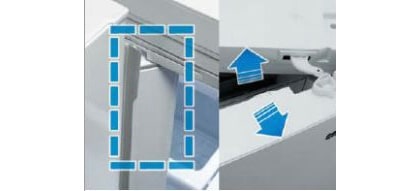 This innovative sealing feature is designed to keep the cool air in the fridge to help minimise energy loss.
SoftArc Design
The smooth-arcing door contours add a touch of elegance.
Tilt Can Carry
The can rack is located in the fridge door and offers an excellent solution for storing cans.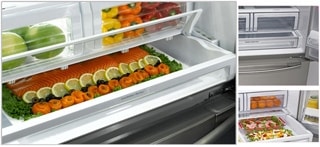 Full Width CoolSelect Pantry
This flexible drawer lets you choose from three different temperatures, so you can store your food at the optimum temperature. The easy sliding rails and wide open top makes the storage of items easy and fast.
Flexible Shelving Options

Foldable, flip-up and slide-out shelving gives you the ultimate in convenience, no matter what kind of food or drink you are trying to store in the fridge.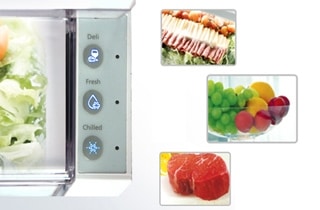 Tasty Settings of the CoolSelect Pantry
1. Deli – Deli foods like ham, salami and chicken slices are delicate and perishable. This setting helps them keep their delicious taste and texture. 2. Fresh – This mode maintains optimal humidity levels for the freshest, crispest fruits and vegetables, keeping them ready for you to grab-and-go. 3. Chilled – Ideal for the storage of fresh meat, poultry and fish, at this temperature, the natural moisture in foods is contained, preserving taste and freshness.
Samsung Home Appliances 5 Year Warranty
Samsung presents a five year warranty on its home appliances. With an extra three year warranty on outstanding products like washing machine, refrigerators, ovens and hobs, this is too great an opportunity to be missed.